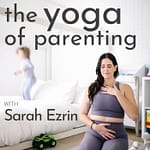 I'm so excited to share this latest episode with you, where I sit down with Dené Logan to talk motherhood and identity, seeking balance and support as we parent, and more! Dené is the co-host of the podcast "Cheaper than Therapy," an Associate Marriage and Family Therapist, yoga teacher, and mom to a six-year-old. In this discussion we delve into Depth Psychology (what it is and how it informs Dené's parenting), tools for supportive co-parenting (both for couples with kids and for parents who aren't together), and why we, as a society, must do more to support parents of all genders in order to help families thrive.
Other topics we cover:
What it's like for a yoga teacher to become a therapist, including Dené's observations from being a therapist while pregnant.
The specific parenting challenges that women often face.
Our kids' unique personalities and the delight we experience when they pick up on our tools from therapy.
Why the yoga that informs our parenting most might not look anything at all like "yoga."
Dené Logan is an Associate Marriage and Family Therapist, Yoga and Mindfulness Instructor, and Group Experience Facilitator who's passionate about sharing with others the tools she's found to be most helpful in her own journey. Learn more about her services, courses, events, and work (including her upcoming book!) at deneselkin.com.
Links:
The Yoga of Parenting: www.yogaofparentingbook.com
Cheaper than Therapy podcast on Apple Podcasts: https://podcasts.apple.com/us/podcast/cheaper-than-therapy-with-vanessa-and-den%C3%A9/id1504710841
Spotify: https://open.spotify.com/show/6J1xpavG5VCNxsBTwOaIbi
And Youtube: https://www.youtube.com/channel/UCY1-RvtCuTlvGgbv3OkVNqQ
Connect with Sarah on IG @sarahezrinyoga and TikTok @sarahezrin
Original music by Egeman Sanli
Produced by Kyle Rebar
https://instagram.com/kylerebarf?igshid=MmJiY2I4NDBkZg==
---
Hosted on Acast. See acast.com/privacy for more information.