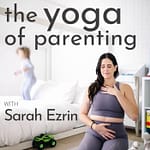 In this episode, I share my recent conversation with acclaimed yoga teacher, activist, author, Yoga for All Founder, and mom of two teenage boys, Dianne Bondy. We dive into the unique joys and challenges that come along with parenting teens including preparing them for life after high school, maintaining close and healthy relationships, supporting and celebrating their successes, and the specific challenges that parents who are raising Black sons face in a world that doesn't offer them the same safety that it does their peers.
Dianne shares not only her experience as a mom but also reflects on her own childhood being raised by immigrant parents and how we can see the love and care behind the choices our caregivers made even if we decide to parent differently ourselves.
Other topics we cover:
Realizing your desire to have kids later rather than sooner.
Supporting and uplifting both parents who stay at home and parents who work away from home.
The unexpected ways that yoga informs Dianne's parenting.
Why it's okay for your identity as a mom to be something that's "just for you" and your family and not something you always need to announce to others.
A sneak peek at the new Yoga for All training.
Dianne Bondy (she/her) is a social justice activist, author, accessible yoga teacher, and the leader of the Yoga For All movement. Her inclusive approach to yoga empowers anyone to practice—regardless of their shape, size, ethnicity, or level of ability. Dianne is revolutionizing yoga by educating yoga instructors around the world on how to make their classes welcoming for all kinds of practitioners. Visit her online at Diannebondyyoga.com
Links:
The Yoga of Parenting: www.yogaofparentingbook.com
Yoga for Everyone (DK Publishing, Penguin Random House):
https://www.amazon.com/gp/product/1465480773/ref=as_li_tl?ie=UTF8&camp=1789&creative=9325&creativeASIN=1465480773&linkCode=as2&tag=diannebondyyo-20&linkId=9ee3d47950d4df883968efe2d32a66b5
Yoga Where Yoga Are (Shambhala):
https://www.amazon.com/gp/product/1611807867/ref=as_li_tl?camp=1789&creative=9325&creativeASIN=1611807867&ie=UTF8&linkCode=as2&linkId=c139ecee82942b75e19c060e1019b530&tag=diannebondyyo-20
Connect with Sarah on IG @sarahezrinyoga and TikTok @sarahezrin
Original music by Egeman Sanli
Produced by Kyle Rebar
https://instagram.com/kylerebarf?igshid=MmJiY2I4NDBkZg==
---
Hosted on Acast. See acast.com/privacy for more information.