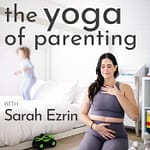 After interviewing Darren Main for The Yoga of Parenting, I realized I was still eager to know more about his parenting journey—in particular how fatherhood has shaped and changed him as a person, and as a practitioner of yoga. That's why he's one of the few book contributors that I've brought back for this podcast. As the single dad of a teenager, Darren has a whole lot of experiential wisdom to offer—more than I could fit into one section of my book—and I'm so happy to share more of his story with you in this latest episode. In it, we discuss what it's like to become a parent quite literally overnight, the joys and challenges of single parenting, and how having children helps (and let's be real, often forces) us to reexamine our priorities.
Other topics we cover:
Adjusting expectations (why Doritos and video games aren't the end of the world).
Creating and maintaining a network of support, both for our kids and ourselves.
The beautiful and unexpected ways that our parenting experiences shape our identity.
Finding work/life balance as a yoga teacher and parent.
Lessons from addiction recovery and the importance of caring for our own mental health.
Darren Main has been writing books, teaching yoga and speaking about mindful living for over 30 years. His work has evolved to support yoga teachers and studio owners in growing a successful and ethical yoga business. He currently lives in Northern California with his son Jaden where he teaches yoga in San Francisco's iconic Grace Cathedral. Learn more at darrenmain.com.
Links:
The Yoga of Parenting: www.yogaofparentingbook.com
Darren's Books: https://www.darrenmain.com/books-darren-Main
Connect with Sarah on IG @sarahezrinyoga and TikTok @sarahezrin
Original music by Egeman Sanli
Produced by Kyle Rebar
https://instagram.com/kylerebarf?igshid=MmJiY2I4NDBkZg==
---
Hosted on Acast. See acast.com/privacy for more information.