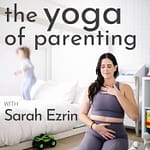 In this episode we talk about the ways that Ayurveda informs Dr. Siva's parenting, and she offers simple suggestions to support both parents who are new to Ayurveda and those who are already quite familiar with it. In particular, we explore the importance of patterns–our own and our children's–and how understanding those patterns can help us cultivate stronger emotional relationships with kids of all ages.
Other topics we cover:
The importance of treating our kids as individuals and addressing their emotional needs in ways that resonate with them.
What to do when our kids hurt our feelings.
Why parents might want to spend less time focusing on doshas when learning Ayurveda.
Dr. Siva Mohan MD has a background in Neuroscience and behavior change. She presents a unique East-West Mind-Body version of Ayurveda, guiding her audience to individualized wellness lifestyle with tools and approaches from Ayurveda, emotional wellness, and functional medicine. Her book, courses and content can be found at ayurvedabysiva.com.
Links:
The Yoga of Parenting: www.yogaofparentingbook.com
Connect with Sarah on IG @sarahezrinyoga and TikTok @sarahezrin
Ayurveda for Yoga Teachers and Students (Singing Dragon, 2019): https://www.amazon.com/Ayurveda-Yoga-Teachers-Students-Bringing/dp/1848193939
Original music by Egeman Sanli
Produced by Kyle Rebar
https://instagram.com/kylerebarf?igshid=MmJiY2I4NDBkZg==
---
Hosted on Acast. See acast.com/privacy for more information.