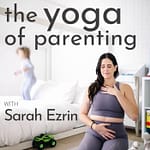 I consider Jane Austin the absolute queen of prenatal yoga—and for good reason! Since 1990, thousands of pregnant people, parents, and yoga teachers have attended and raved about her yoga classes, workshops, and trainings (including me!) In addition to her background as a birthworker and prenatal/postpartum yoga teacher, Jane is also the parent of adult children. In this delightful episode, we talk about importance of community and ritual during and after pregnancy (particularly in a culture that lacks this), helping our kids to establish healthy views on body image and sexuality, and tools from the yoga tradition we can tap into for support during and long after pregnancy. And Jane regales me (and you!) with her stories from over three decades specializing in prenatal yoga.
Other topics we cover:
Why it's so important for prenatal teachers to support students' birthing choices and understand that what worked for us might not work for them.
Why it's crucial for pregnant people and parents to support each other during important transitions.
The very unglamorous ways that we've snuck in self-care while pregnant and parenting.
The surprising power of tree pose in a postpartum practice.
Jane Austin is the founder and director of Mama Tree, a prenatal yoga school dedicated to educating yoga teachers, doulas and midwives on how to use the tools of yoga to support pregnant people and new parents in all stages of the childbearing year and beyond. She weaves her experience as a midwife, doula, childbirth educator and mother into her work. Visit her and learn more at janeaustinyoga.com
Links:
The Yoga of Parenting: www.yogaofparentingbook.com
Connect with Sarah on IG @sarahezrinyoga and TikTok @sarahezrin
Original music by Egeman Sanli
Produced by Kyle Rebar
https://instagram.com/kylerebarf?igshid=MmJiY2I4NDBkZg==
---
Hosted on Acast. See acast.com/privacy for more information.