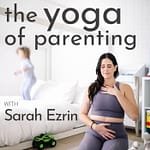 In this episode I share an enlightening conversation about trauma-informed parenting with therapist, somatic experiencing practitioner, yoga teacher, author, and activist Hala Khouri. Hala is the mom of a 12-year old and a teenager and shares invaluable nuggets of wisdom from both her personal experience and her professional expertise. We talk about raising resilient kids, how to navigate important conversations about topics that can feel uncomfortable (i.e., sex), and the pressure to be "perfect" that social media places on teens.
Other topics we cover:
Finding the right balance between protecting our kids from harm and allowing them to make mistakes and develop resilience.
The unique challenges of post-pandemic parenting.
Helping kids develop a healthy understanding of sexuality.
Cultivating compassion and acknowledging our own parenting privileges.
Defining and unpacking spiritual bypassing and the way it can show up in our parenting.
Hala Khouri (She/Her) is a therapist, yoga teacher, and somatic experiencing practitioner known for her nuance, compassion, and humor in addressing difficult topics such as stress, anxiety, and trauma. One of the founders of Off the Mat and Into the World, Hala teaches workshops on yoga, anxiety, trauma, resilience, and social justice nationally. Learn more about her work at halakhouri.com.
Links:
The Yoga of Parenting: www.yogaofparentingbook.com
Peace from Anxiety: Get Grounded, Build Resilience, and Stay Connected Amidst the Chaos (Shambhala, 2021): https://www.amazon.com/Peace-Anxiety-Grounded-Resilience-Connected/dp/1611808103
Connect with Sarah on IG @sarahezrinyoga and TikTok @sarahezrin
Original music by Egeman Sanli
Produced by Kyle Rebar
https://instagram.com/kylerebarf?igshid=MmJiY2I4NDBkZg==
---
Hosted on Acast. See acast.com/privacy for more information.